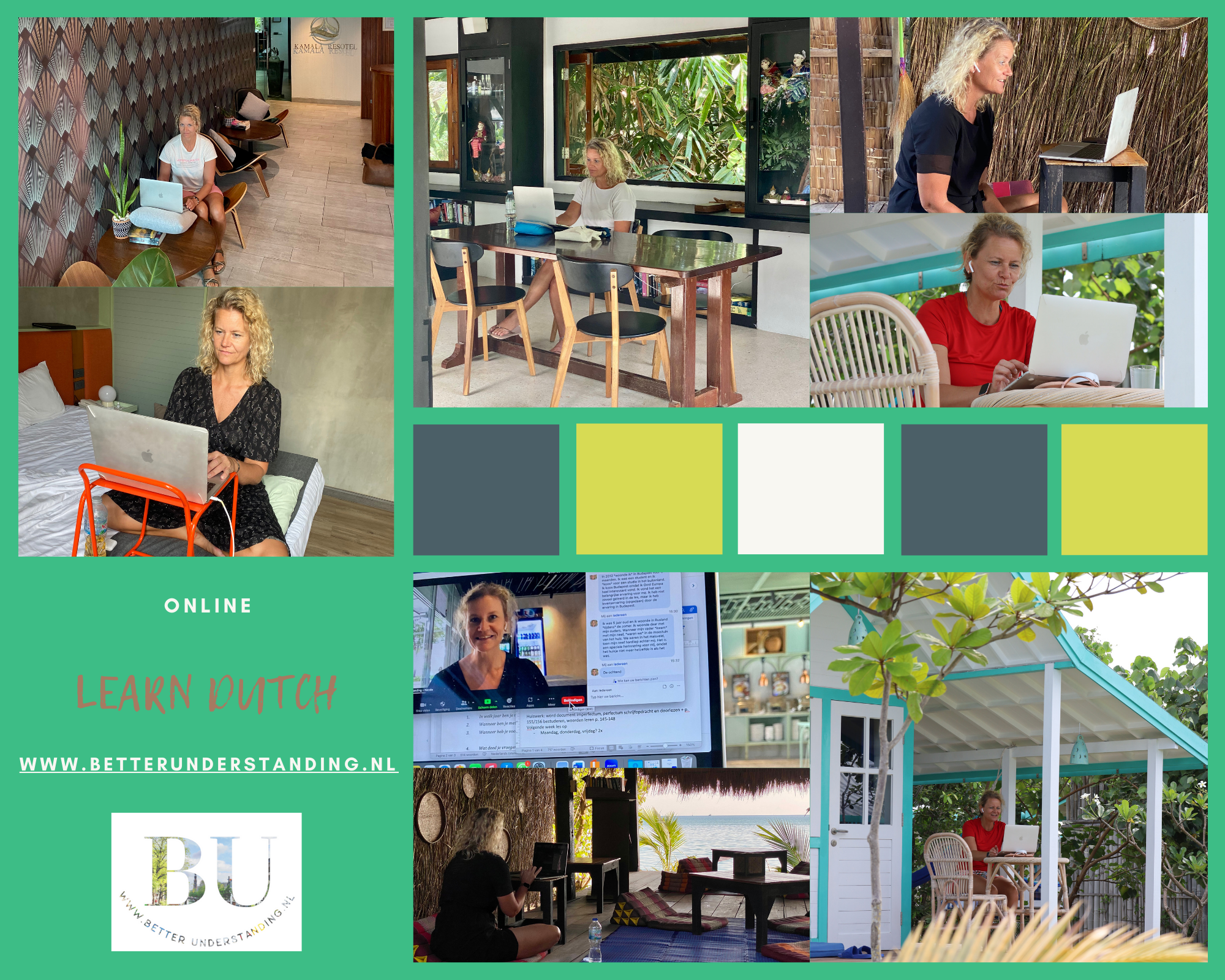 09 May

Reizen en werken combineren
De afgelopen 5 maanden zijn mijn man en ik op reis geweest
We hebben gereisd door Zuid-Oost Azië. Tijdens onze reis hebben we enorm veel beleefd en gezien. We zijn in Indonesië begonnen. Daarna zijn we naar Noord en Midden Thailand gegaan. Vanuit daar naar Cambodja.Vervolgens zijn we door Maleisië gereisd. Tenslotte zijn we via het zuiden van Thailand van eilandje naar eilandje gehopt om zo uiteindelijk vanuit Bangkok weer naar Amsterdam te vliegen. We hebben waanzinnig genoten.
Reizen en werken combineren: tijdens onze reis heb ik ook gewerkt
Een groot deel van mijn werk doe ik online. Dit deed ik ook al voor de Covid uitbraak, dus ik heb er veel ervaring mee. Zowel mijn studenten als ik vinden dit een groot voordeel hebben. Vaak wordt flexibiliteit, geen reistijd, ontspannen vanuit huis en te combineren met huisdieren/kinderen genoemd. Op de foto zie je een aantal afbeeldingen waarop ik tijdens onze reis aan het werk te zien ben. Ik heb beduidend minder gewerkt dan normaal zodat er ook voldoende ruimte was om te ervaren, maar het was heel fijn om mijn werk ook mee te kunnen nemen. Ook mijn studenten vonden het leuk om mee te mogen.
Reizen en leren combineren: Ook mijn studenten reizen vaak
Zij waren niet altijd in Nederland. Een van hen was in deze periode ook op reis. Zij reisde door Oost Europa. Een ander verbleef voor zijn werk langere tijd in Duitsland en Zwitserland. Ook werd naar het thuisland gereisd, onder andere de Verenigde Staten en Italië. Ondertussen gaan ze gewoon door met het leren van de Nederlandse taal. Wat fijn dat dit zo goed te combineren is.
Blije studenten, blije docent!
Wil jij ook je reizen combineren met het leren van de Nederlandse taal? Of werk of woon je in het buitenland en wil je graag Nederlands leren?
Vul dit formulier in (click here) of neem contact op via LinkedIn (click here).
Volg me op Instagram (click here) voor meer tips en Nederlandse les.