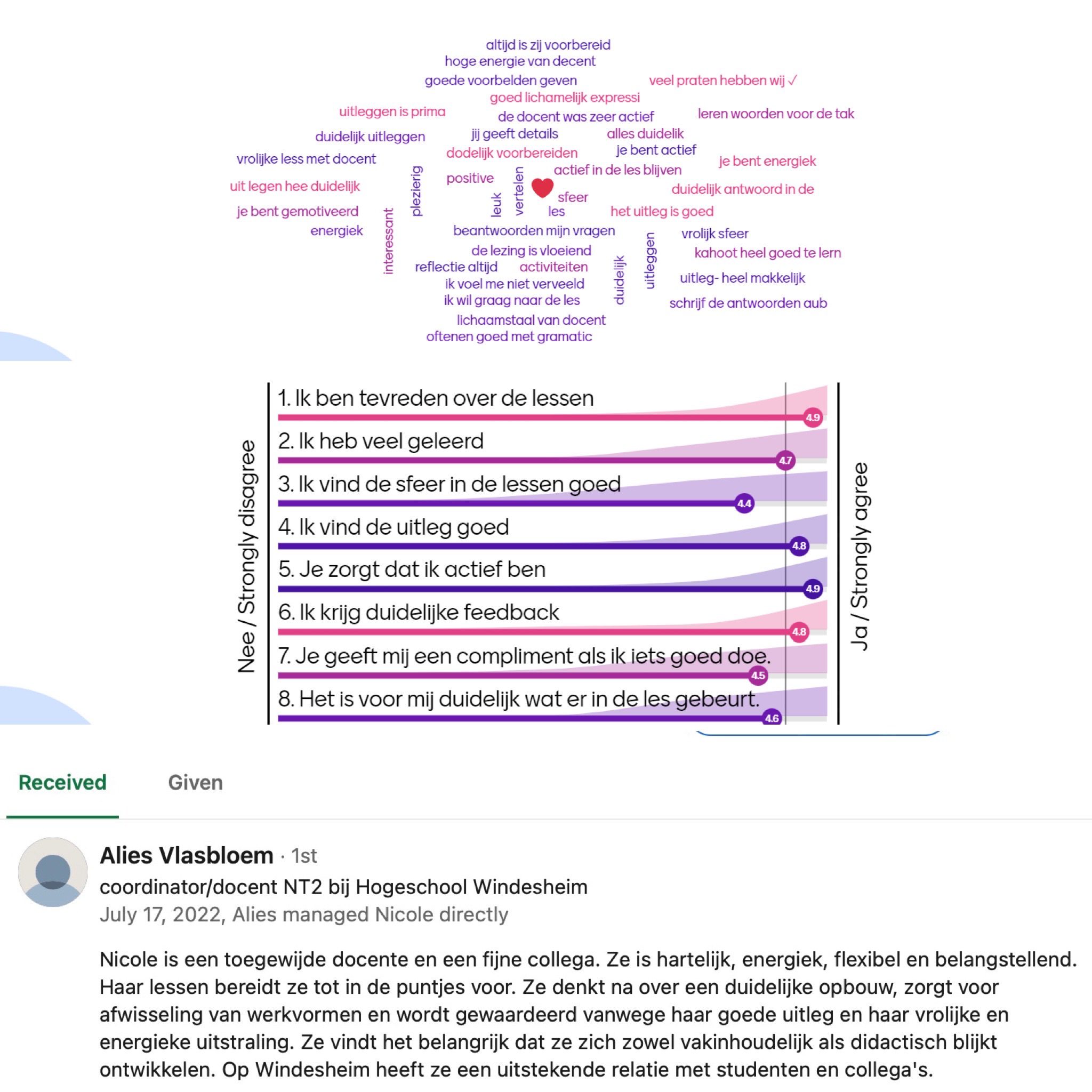 15 Sep

Reviews and feedback
Reviews and feedback.
Sometimes you have a reason to be a bit proud of what you did.
Schools have started again.
So has the University for applied sciences Windesheim. But I won't be around this year.
Last year I was teaching Dutch as a second language (and Dutch culture) at Windesheim.
This year I won't be there. Due to our travel plans. Our travel plans are not matching the strict school system. The good thing is we did say goodbye in a very pleasant way.
I received lovely reviews and feedback from my colleagues, students and my manager.
In the pictures above you can read all about it. The colorful picture is a Mentimeter from my class, 16 students filled in the wordle and the survey.
The following words are from my manager at Windesheim: 'Nicole is a dedicated teacher and a great colleague. She is warm, energetic, flexible and interested. Her lessons are always prepared down to the last detail. She thinks about a clear structure, provides variety in working methods and is appreciated for her good explanation and her cheerful and energetic appearance. To develop both professionally and didactically is very important for her. At Windesheim she has an excellent relationship with students and colleagues.'
It was a pleasure to join the team and who knows… I might return in the future. Most important thing I've learned:
– that students are happy and active in my lessons
– that students learn a lot
– that colleagues like me because of my energy and my good explanation
– a lot from my students and colleagues and I am grateful for that
Like stated by my manger I love to learn and develop myself.
So that's what I will keep on doing. And, as a Teacher Dutch I seem to be in the right place at the right time. I am very grateful for that.
Reviews and feedback. Google reviews.
Do you like to see some more. Just check me on google business. Click here to read the Google reviews.
Do you also like a bit of support, just reach out to me. Through this form (click here) or LinkedIn (click here).
Do follow me on Instagram (click here) for multiple weekly bites of Dutch.