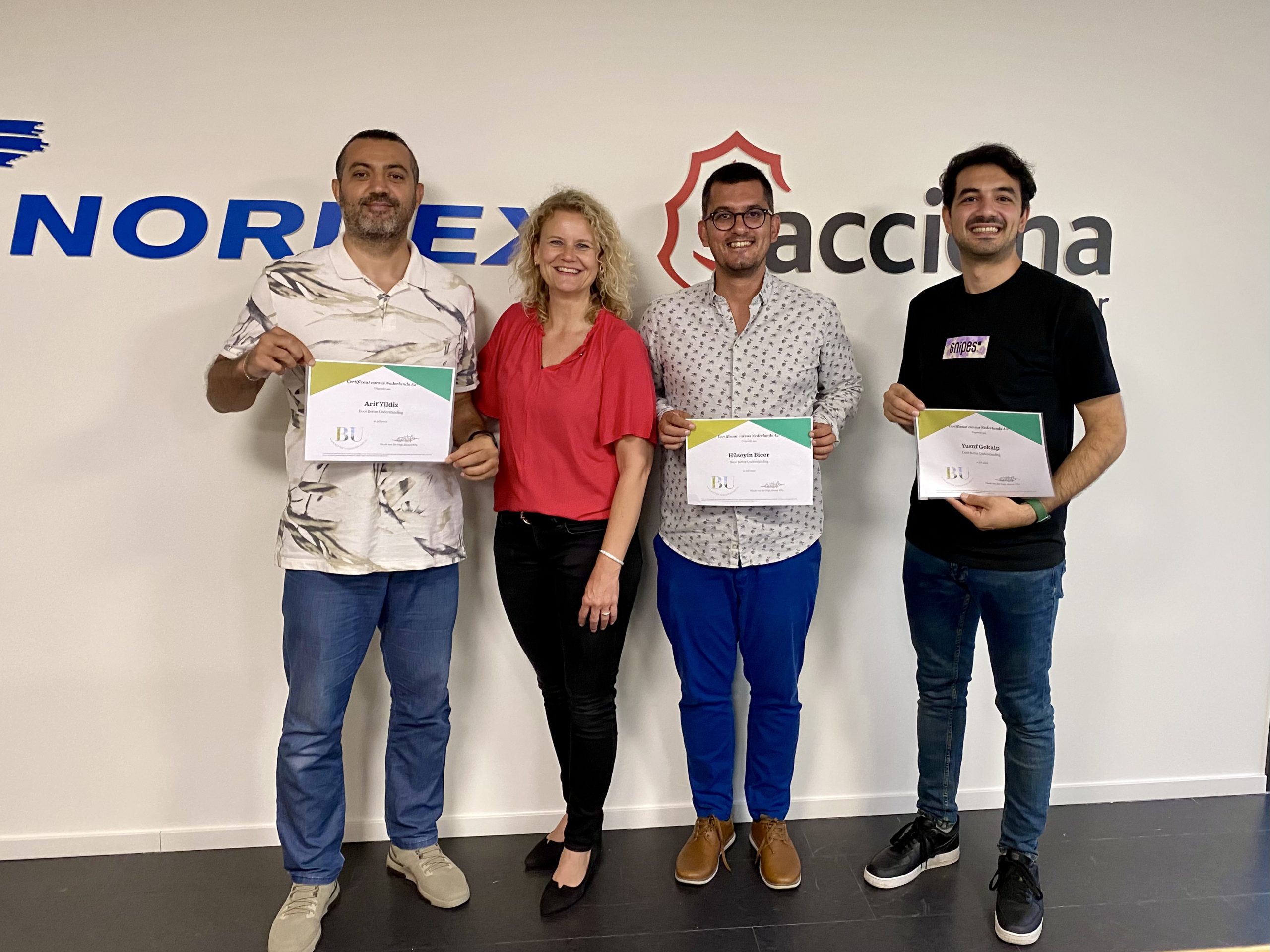 06 Sep

Nederlands op de werkvloer
Nederlands op de werkvloer, dat is… Je bent nog maar net in Nederland, je hebt een drukke baan én je gaat Nederlands leren.
Dat vraagt veel motivatie en dat hadden de heren van Nordex. Zij hebben hard gewerkt om de training succesvol af te ronden. Aan het begin van de zomervakantie hebben zij hun certificaat in ontvangst mogen nemen.
Het was een enorm fijne training waarin leren en plezier echt hand in hand gingen. De cursisten waren, net als ik, enorm enthousiast.
Enkele reacties van de cursisten, door de cursisten zelf geschreven:
"Ik vind de uitspraak grappig."
"Ik heb ook Nederlands buiten de les gesproken. In een café, restaurant, supermarkt heb ik Nederlands gesproken. Het was leuk!."
"Ik vind het leren van de Nederlandse taal heel goed. Het zal veel helpen bij me aanpassen."
"De lessen zijn altijd interactief."
"Ik heb het druk op mijn werk in het tweede deel van de lessen, ik kon me niet (goed) concentreren."
"Ik heb woorden geleerd en de cultuur leren kennen"
"Spaghetti Carbonara is overal :)" (*de schrijver van het boek blijkt nogal fan te zijn van spaghetti)
"Rijke inhoud, druk schema"
Ik ben super trots op mijn cursisten Nederlands op de werkvloer!
Wat een plezier ook om een werkgever te ervaren die de ontwikkeling van de medewerkers zo belangrijk vindt. De medewerkers weten nu zoveel meer over de Nederlandse taal en cultuur. Zij zullen zich hierdoor meer thuis voelen.
Mooi om te zien ook dat de collega's en managers binnen Nordex regelmatig Nederlands met de cursisten spreken.
Nordex heeft ook een praatwaaier gekocht zodat de medewerkers onderling in de pauzes eenvoudig het gesprek met elkaar aan kunnen gaan. Zo wordt voorkomen dat er onderling, ook in de pauzes, altijd op Engels wordt overgeschakeld. Nog maar eens het bewijs dat betrokkenheid binnen het team bijdraagt aan succes!
Wil jij dit ook (voor jouw medewerkers)? Neem gerust contact met me op, via dit formulier (click here) of LinkedIn (click here).
Do you also like a bit of support, just reach out to me. Through this form (click here) or LinkedIn (click here).
Do follow me on Instagram (click here) for multiple weekly bites of Dutch.